Core Labs
Regular price
Sale price
€45,00
Unit price
per
Sale
Sold out
Core Labs Veno Test is a new strong testosterone-boosting stack. The supplement is a composition of the most effective ingredients to increase male libido and improve sexual performance. It is a unique blend of ingredients influencing the hormonal balance of men, maximizing testosterone levels and reducing estrogen. The addition of phytosterol 25-R Spirostan-5a-diol-6-one-3-one-undecanoate with a strong anabolic potential allows you to build high gains in muscle mass and strength.
Veno Test provides a high level of testosterone necessary to build muscle mass, accelerate fat burning and increase strength. Provides well-being and high energy. The preparation is recommended for athletes and men over 35 in order to increase vitality. The Veno Test supplement also slows down the growth of the prostate gland and supports antioxidant processes. Saw palmetto extract, nettle extract and plant antioxidants create a powerful preparation that allows you to take care of the prostate gland and urinary system.
Veno Test ingredients:
Stinging Nettle Extract - studies conducted in recent years prove that the plant and its substances have strong antioxidant, anti-aggregation, anti-inflammatory, hypocholesterolemic and hypoglycemic properties. Due to these properties, nettle is becoming more and more popular and new prophylactic and therapeutic applications are constantly being sought in terms of its possible use in many diseases and ailments.
Horny Goat Weed - increases the level of neurotransmitters responsible for sexual arousal, has a positive effect on testosterone levels, increases the production of nitric oxide (NO) in the body. Horny Goat Weed contains a compound called icariin, which has an effect similar to sildenafil, the active substance in the most famous drug for male problems, the 'blue pill'. In addition, preliminary tests have shown that icariin does not have such adverse side effects as the blue pill, which people with heart disease, for example, should not take. Icarin - Indeed, both empirical experience and scientific research show the possibility of increasing libido due to icarins. It increases the blood supply and vascularization of capillaries in muscles and genitals. This makes it possible to use it both to improve sexual function and to improve the quality of training. It turned out that it plays the role of a mediator in the formation of nitric oxide.
Tongat Ali Extract - is a herb with many proven benefits, a well-known aphrodisiac. Men all over the world (it all started in Malaysia, hence the name Malaysian ginseng) say Tongkat tea improves sexual performance. Tongkat Ali is very popular in traditional medicine, but is becoming more and more used among people who have libido problems due to low testosterone levels. Tongkat Ali, also called Eurycoma Longifolia Jack, when used as an aphrodisiac, exhibits positive effects and relatively high potency compared to other herbs. Tongkat Ali has an anti-estrogenic effect with a very high potency.
25-R Spirostan-5a-diol-6-one-3-one-undecanoate is a phytosterol that is combined with an undecanoate ester to increase bioavailability through lymphatic uptake. The ingredient ensures a positive nitrogen balance, intensifies anabolism and accelerates the building of muscle mass.
Fenugreek Seed Extract - fenugreek extract - herb showing a clear stimulating effect on the growth of free testosterone. The saponins in fenugreek work in two ways. The first is to increase the release of CRH from the hypothalamus, which stimulates the pituitary gland to produce ACTH, which in turn increases the production of androgens in the adrenal cortex. The second way is to directly attach to the same receptors that testosterone attaches to and exert its anabolic androgenic effects. It has a positive effect on the overall level of androgens. Fenugreek stimulates the production of red blood cells, increases the absorption of nutrients in the small intestine, increases nitrogen retention in the body, stimulates protein synthesis, thus stimulating myogenesis (development of muscle tissue), growth of cartilage, bone and proper connective tissue.
DIM - accelerates the metabolism of estrogen - female hormones, thanks to which it increases testosterone levels and accelerates the development of pure muscle mass. In addition, it accelerates the loss of unnecessary fat. Thanks to DIM, you will lose fat and build a beautifully pure mass at the same time. Additionally, DIM will protect you against prostate cancer and diseases.
Saw Palmetto Extract - obtained from saw palmetto fruits, it is characterized by a high content of fatty acids showing the ability to inhibit the activity of 5-alpha-reductase converting testosterone into dihydrotestosterone. DHT has a much higher adrenergic potential, causes many side effects characteristic of too high androgen levels. In addition to reducing the negative effects of dihydrostestosterone activity, Saw Palmetto extract also helps to maintain a high concentration of the male sex hormone in the blood.
N-Methyl-DL-Aspartic Acid-NMDA is an amino acid derivative capable of eliciting an anabolic response from NMDA receptors found in our bodies. While NMDA binds to the NMDA receptor, the hypothalamic-pituitary-gonadal axis releases a potent combination of testosterone, growth hormone, IGF-1 and IGF-2. N-methyl-D-aspartic acid activates the NMDA receptor and helps maintain testosterone levels. It also exhibits testosterone-like effects by binding to and creating a male hormone receptor site. activity. As a result, the compound increases muscle mass and increases libido.
Catuaba Bark Extract - a strong aphrodisiac enhances the sensations of sex, libido and sexual performance. It improves erection and raises the level of male sex hormones in a natural way. It is an anti-oxidant - it fights free radicals, removes fatigue and gives vigor in everyday life.
Maca Root Extract - due to the many nutrients that are extremely valuable to the human body, maca root is considered a "superfood". Its main applications are: strengthening the immune system, reducing fatigue and accelerating the regeneration of the body. Moreover, its supplementation is believed to give vigor, influence the regulation of sex hormones and the proper functioning of the thyroid gland.
Forskolin - it is a type of parent enzyme that stimulates other enzymes to regulate the growth of muscle mass and initiate fat loss processes. It converts adenosine triphosphate (ATP) into cAMP - Cyclic Adenosine Monophosphate, which is the most important body regulator responsible for intensifying the breakdown of fat in fat cells. This compound provides accelerated transport of fat to muscle cells for its burning.
Piperine - the active ingredient of black pepper, has a thermogenic effect. It can increase the blood supply to the digestive tissues, resulting in a better digestibility of food ingredients. It significantly improves the bioavailability of many active ingredients of supplements.
Grape Seed Extract - Grape seed is rich in antioxidants, including phenolic acids, anthocyanins, flavonoids and oligomeric proanthocyanidin complexes (OPCs). Due to its high antioxidant content, GSE can help protect against oxidative stress, tissue damage, and inflammation, and prevent disease. The resveratrol present in grape seed extract acts as an antioxidant, scavenging free radicals that damage the body's healthy cells. It is a substance that reduces the absorption of LDL cholesterol in the walls of blood vessels, reducing the risk of heart disease and atherosclerosis. It inhibits the aggregation of platelets and prevents the formation of dangerous blood clots. It is perceived as a substance that has anti-obesity properties and may also have a beneficial effect in preventing diabetes. In addition, it has the ability to lower blood pressure levels, which is an important factor in preventing civilization diseases.
Naringenin - a glycoside that occurs naturally in grapefruit fruits and gives them a characteristic, bitter taste. It has a wide pro-health effect, can have antibacterial and anti-inflammatory properties, and can also stimulate lipolysis. It also shows antioxidant activity, thanks to which it eliminates the excess of free radicals in the body.
Boron - an extremely valuable element whose deficiencies can lead to degenerative joint diseases and prostate cancer. Boron has a positive effect on the concentration of vitamin D2, magnesium, calcium and copper in the body. It has a beneficial effect on motor coordination, mental performance and long and short-term memory. It also increases the activity of testosterone, which is why it is so important for people who exercise, especially for those who want to build muscle mass even more effectively, without worrying about the condition of joints often exhausted by hard training.
Vitamin E TPGS - a water-soluble derivative of natural vitamin E, an innovation in the field of substance absorption. Vitamin E TPGS is a non-ionic surfactant used as: absorption enhancer, antioxidant. Vitamin E TPGS is also used as an efficient source of natural vitamin E for both therapeutic and nutritional purposes.
Vitamin D3 - supplementation with vitamin D3 contributes to an increase in testosterone levels in men who previously complained about its low level. What's more, the effect of vitamin D supplementation on slowing down the decline in androgens resulting from the aging of the body, which allows you to enjoy vitality for a long time. The influence on the work of muscles translates into better control over the body and a stronger activation of muscle fibers to work. Regulation of the level of androgens and the sensitivity of tissues to insulin allows the maximization of anabolic processes and the optimal use of nutrients. There is also a beneficial effect on the reduction of adipose tissue, among others due to elevated adiponectin.
Veno Test dosage:
1-3 capsules a day.
Share
View full details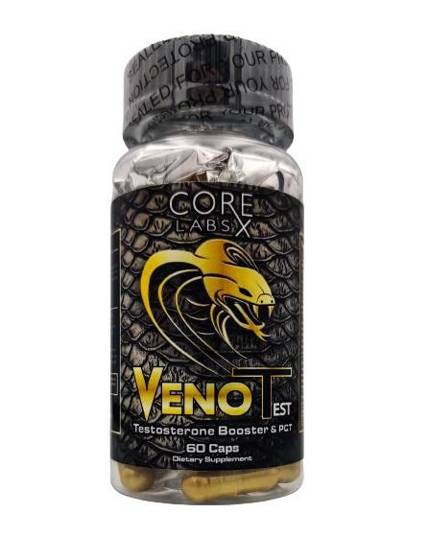 Collapsible content
Shipping

Free delivery on orders over €199.00 EUR*

*Delivery with registered post (5-10 business days) - €8.00 EUR for orders under €199.00 EUR
*Express delivery (3-4 business days) - fixed price €15.00 EUR

We will ship your order after receiving confirmation of payment.

| Country | Delivery price |
| --- | --- |
| Austria, Belgium, Bosnia & Herzegovina, Bulgaria, Croatia, Cyprus, Czechia, Denmark, Estonia, Faroe Islands, Finland, France, Germany, Greece, Hungary, Ireland, Italy, Latvia, Liechtenstein, Luxembourg, Malta, Monaco, Netherlands, Poland, Portugal, Romania, San Marino, Slovakia, Slovenia, Spain, Sweden, United Kingdom | €8.00 EUR |