GN Laboratories
Regular price
Sale price
€34,99
Unit price
per
Sale
Sold out
Bioactive collagen peptides with highest bioavailability for healthy joints and bones, better and faster recovery after exercise and last but not least smoother, more youthful skin and healthier, stronger hair.
Product Highlights
Bioactive collagen peptides with maximum bioavailability
Can promote and accelerate recovery after exercise
May increase athletic performance
May reduce muscle soreness after exercise
May have a positive effect on joint discomfort and promote and maintain joint health
Supports the maintenance of healthy bones and can counteract age-related bone loss
Can reduce wrinkles, moisturize the skin and strengthen hair
Supports the maintenance of lean body mass
With Peptan® type 1, type IIm and type 3 biopeptides for maximum quality
Excellent solubility even in cold water
Completely tasteless and heat resistant
What are collagen peptides and what distinguishes them from conventional collagen supplements? Unlike many other collagen supplements, GN Collagen Peptides does not simply contain gelatin, but bioactive collagen peptides of type 1, type IIm and type 3 of the brand Peptan®, which are produced with the help of a complex enzymatic hydrolysis complex. This makes GN Collagen Peptides excellently soluble even in cold water and provides superior bioavailability that others can only dream of: over 90% of the collagen peptides consumed are detectable in the bloodstream, allowing them to quickly reach all parts of the body where they are needed.
GN Collagen Peptides also includes the full spectrum of different collagen peptides to give you the full range of health benefits. This includes type 1 collagen peptides - the type of collagen found in our skin - and type IIm collagen peptides - a blend of type 2 collagen and glycosaminolycans found in this form in human cartilage, including articular cartilage.
What are the benefits of collagen peptides for athletes?
Collagen peptides can promote post-exercise recovery, reduce muscle soreness and enhance athletic performance
Collagen peptides support and accelerate the repair of exercise-induced damage to various connective tissue structures including ligaments, tendons and joints. This accelerated recovery after exercise has been shown to increase athletic performance in clinical studies (3). An additional side effect of collagen peptide supplementation was a significant reduction in muscle soreness after exercise (3).
For hard training athletes - especially strength athletes - who put their joints under high stress, the positive effects of collagen peptides on the joints (which we will look at in more detail in a moment) are of particular interest.
What other benefits do collagen peptides have?
Collagen peptides can relieve joint problems and promote joint and bone health
Collagen is a key building block of articular cartilage and about 90% of the organic material of bones is collagen, which forms the scaffold to which minerals are attached. Collagen is also responsible for the flexibility and strength of bones. Peptan IIm contained in GN Collagen Peptides contains glycosaminoglycans, chondroitin sulfate and hyaluronic acid in addition to bioactive collagen peptides and also promotes joint lubrication and possesses anti-inflammatory effects (4). It can protect articular cartilage from degeneration and also provide relief from pre-existing joint problems (4).
Clinical studies have shown that Peptan IIm can reduce joint pain by 32% and improve joint mobility by 44% for joint problems (5).
In addition to its joint-protective effects, Peptan IIm also has beneficial effects on bone health. By promoting the activity of bone-forming cells while inhibiting the function of bone-resorbing cells, it can help maintain or improve bone mineral density and counteract bone loss (osteoporosis) (6, 7, 8, 9).
Collagen peptides can promote youthful skin and strong, healthy hair
Scientific studies have shown that 5 grams of Peptan® collagen per day significantly reduced wrinkles around the mouth and eyes within 90 days (1). In addition, higher collagen density and a 28% increase in skin moisture content were observed in clinical studies (2).
In addition to this, Peptan® collagen peptides were able to significantly increase hair breakage strength and hair thickness (1).
Collagen peptides can promote the maintenance of lean body mass
In a clinical study, collagen peptides were shown to promote the maintenance of lean body mass better than whey protein (10). This is of particular interest to dieters and the elderly who are at increased risk of unwanted muscle loss.
Benefit from maximum flexibility
GN Collagen Peptides are not only very soluble in all liquids, but also heat resistant and completely tasteless and odorless. They can therefore be combined with all drinks and dishes and even used for baking and cooking.
| Average nutritional values | per 10 g | % (NRV*) | |
| --- | --- | --- | --- |
| Peptan® Type 1 and 3 | 8700 mg | ** | |
| Colartix® hydrolyzed cartilage type 2 | 1000 mg | ** | |
| Vitamin C | 40 mg | 50% | |
| Manganese | 0,5 mg | 50% | |
| Copper | 80 mg | 50% | |
| Selenium | 27,5 µg | 50% | |

Ingredients: Peptan® collagen hydrolisate type 1 & type 3 (from beef), Colartix® hydrolyzed cartilage type 2, L-ascorbic acid (vitamin C), manganese citrate (96.5% manganese), copper gluconate (100% copper), sodium selenite (98.5% selenium)
Share
View full details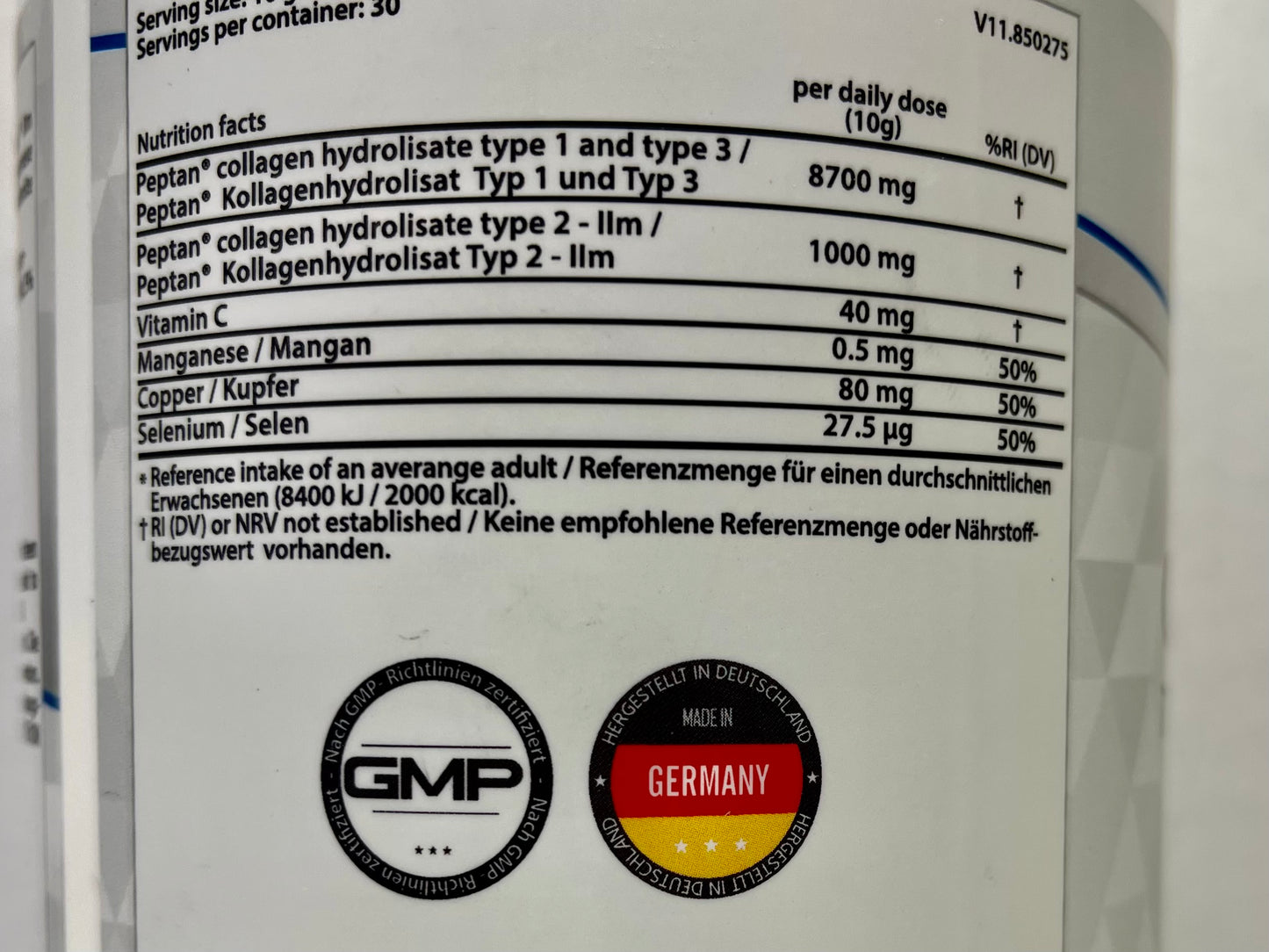 Collapsible content
Shipping

Free delivery on orders over €199.00 EUR*

*Delivery with registered post (5-10 business days) - €8.00 EUR for orders under €199.00 EUR
*Express delivery (3-4 business days) - fixed price €15.00 EUR

We will ship your order after receiving confirmation of payment.

| Country | Delivery price |
| --- | --- |
| Austria, Belgium, Bosnia & Herzegovina, Bulgaria, Croatia, Cyprus, Czechia, Denmark, Estonia, Faroe Islands, Finland, France, Germany, Greece, Hungary, Ireland, Italy, Latvia, Liechtenstein, Luxembourg, Malta, Monaco, Netherlands, Poland, Portugal, Romania, San Marino, Slovakia, Slovenia, Spain, Sweden, United Kingdom | €8.00 EUR |