Insane Labz
Regular price
Sale price
€43,00
Unit price
per
Sale
Sold out
Insane Psychotic Clear 320g pre-workout
Insane Psychotic Clear 320g pre-workout that will take your training to a completely new dimension of stimulation and intensity. Nowadays, when the sports supplement market is booming, it is not easy to find the right product that will help you achieve your training goals. However, we have the answer for you - Insane Psychotic Clear.
Insane Psychotic Clear 320g is:
Ingredients of the highest quality
One of the key elements that distinguish Insane Psychotic Clear 320g from other supplements is the quality of its ingredients. Our product contains only the highest quality ingredients that have been carefully selected to ensure maximum effectiveness. Thanks to this, the product works as strongly as possible.
Extreme Energy
When you're wondering why you should choose Insane Psychotic Clear, the answer is simple - it delivers extreme energy. Thanks to a special mixture of ingredients, the product ensures quick energy release, which allows for training at the highest level. Each of your workouts will be characterized by maximum intensity.
Better Performance
If you want to improve your performance during training, Insane Psychotic Clear 320g pre-workout is the key to success. The active ingredients in our product help increase the body's endurance, which translates into better sports results. Special ingredients such as OxyGold have a very strong effect on muscle performance.
Maximum Concentration
High concentration is another advantage of Insane Psychotic Clear. Thanks to it, you can focus on your training and achieve better results. Appropriate ingredients improve cognitive functions, which is extremely important during intense physical exercise.
Insane Psychotic Clear 320g pre-workout composition:
1 serving, 16 grams:
L-Citrulline Malate 2:1 - 6 g - is a combination of the amino acid L-Citrulline and malic acid in a 2:1 ratio. L-Citrulline is a precursor of nitric oxide (NO), which dilates blood vessels and improves blood flow to the muscles. This, in turn, increases the supply of oxygen and nutrients to muscle cells, which translates into better performance and pump. Malic acid supports energy production in the Krebs cycle and prevents muscle acidification.

Beta Alanine - 3.2 g - is an amino acid that increases the level of carnosine in the muscles. Carnosine is a buffer that neutralizes excess lactic acid that accumulates in the muscles during intense exercise. Thanks to this, Beta Alanine delays the onset of fatigue and allows you to train longer and harder. Beta Alanine also improves muscle strength, power and endurance.
Betaine Anhydrous - 2.5 g - is an organic compound naturally occurring in beets. Betaine increases the synthesis of protein and creatine in the muscles, which helps build muscle mass and strength. Betaine also increases the levels of growth hormone (GH) and nitric oxide (NO) in the body, which stimulates anabolism and the muscle pump.
Agmatine Sulfate - 1 g - is a metabolite of arginine that increases the synthesis of nitric oxide (NO) in the body. Agmatine dilates blood vessels. This action translates into improved blood flow. Thanks to this, agmatine sulfate supports the muscle pump, regeneration and growth of muscle tissue. In addition, agmatine sulfate has neuroprotective, antidepressant and analgesic effects, which may be useful during intense training.
L-Alpha Glycerylphosphorylcholine (Alpha GPC 50%) - 400 mg - is a natural precursor of acetylcholine, a neurotransmitter responsible for memory, learning and cognitive functions. Alfa-GPC improves focus, concentration and motivation to train, as well as increases muscle strength and power. Alpha-GPC can also increase levels of growth hormone (GH), which stimulates anabolism and fat burning.
Caffeine Anhydrous - 150 mg - is the most popular stimulant in the world, which stimulates the nervous system, improves mood and reduces fatigue. Anhydrous caffeine increases aerobic and anaerobic capacity, improves reaction and motor coordination, and accelerates metabolism and lipolysis. Anhydrous caffeine is also a synergist of other pre-workout ingredients, enhancing their effect.
+AMPiberry (Juniperus Communis) (berry) - 150 mg - It is a juniper berry extract that has antioxidant, anti-inflammatory and antibacterial properties. AMPiberry helps increase blood flow to the muscles, which improves their oxygenation and nutrition. In addition, AMPiberry supports the metabolism of fats and sugars, which provides a long-lasting source of energy. Moreover, the ingredient has a strong stimulating effect.
Infinergy Dicaffeine Malate - 75 mg - is a combination of caffeine and malic acid that provides quick and long-lasting stimulation. Infinergy is gentler on the stomach than regular caffeine and does not cause a sharp drop in energy after its use. Infinergy improves concentration, alertness and motivation to train.
Caffeine Citrate - 75 mg - is another form of caffeine that works even faster than Infinergy. Caffeine Citrate stimulates the nervous system and increases the secretion of adrenaline, which increases the heart rate and blood pressure. Caffeine Citrate increases muscle strength, endurance and pain tolerance.
OxyGold (Fulvic Acid) - 25 mg - is organic fulvic acid that improves the absorption of nutrients from food and supplements. OxyGold supports cell and tissue regeneration, which accelerates the healing and muscle repair processes. OxyGold also has antioxidant and anti-aging properties. OxyGold effectively increases the efficiency of your muscles.
Insane Psychotic Clear 320g pre-workout dosage:
1 serving, 16 grams, 30 minutes before training.
Share
View full details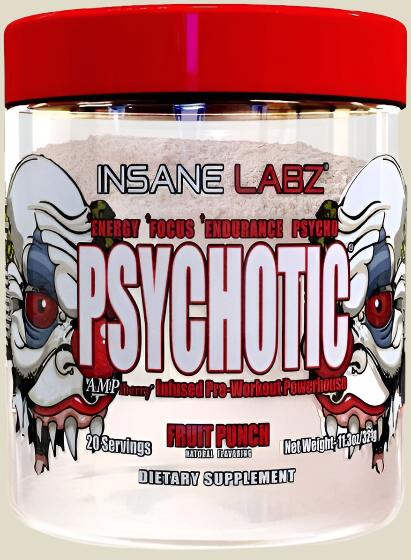 Collapsible content
Shipping

Free delivery on orders over €199.00 EUR*

*Delivery with registered post (5-10 business days) - €8.00 EUR for orders under €199.00 EUR
*Express delivery (3-4 business days) - fixed price €15.00 EUR

We will ship your order after receiving confirmation of payment.

| Country | Delivery price |
| --- | --- |
| Austria, Belgium, Bosnia & Herzegovina, Bulgaria, Croatia, Cyprus, Czechia, Denmark, Estonia, Faroe Islands, Finland, France, Germany, Greece, Hungary, Ireland, Italy, Latvia, Liechtenstein, Luxembourg, Malta, Monaco, Netherlands, Poland, Portugal, Romania, San Marino, Slovakia, Slovenia, Spain, Sweden, United Kingdom | €8.00 EUR |