Lawless Labs
Regular price
Sale price
€49,00
Unit price
per
Sale
Sold out
Lawless Labs Ligandrol LGD 4033 liquid 30 ml SARM with a powerful anabolic effect.
Lawless Labs Ligandrol LGD 4033 liquid 30ml is a supplement from the group of SARMs or substances with selective action on androgen receptors. Ligandrol is excellent for building pure lean body mass, it builds strength perfectly and prevents excess fat accumulation. It does not affect aromatase levels, so there is no excessive water retention as with classical anabolic agents. Ligandrol is considered a very good mass gainer, which gives high-quality gains, comparable to turinabol. It is also perfect for so-called recomposition. It has a strong anti-catabolic effect and prevents fat storage. LAG 4033 allows you to achieve a high-quality muscular form.
Ligandrol gives powerful gains in dry muscle mass and is considered one of the most potent SARMs.
Lawless Labs Ligandrol LGD 4033 liquid is:
Convenient droplet form of administration,
Increase in lean body mass,
Does not aromatize,
Does not cause retention,
Protects muscles from catabolism,
Enhances bone mineralization,
Allows for greater glycogen storage,
Gives the effect of full and toned muscles,
Responsible for regenerative processes.


Who is Lawless Labs Ligandrol LGD 4033 designed for?
LGD is perfect as a supplement for people who want to achieve very good quality muscle mass gains. LGD allows you to gain 4 to 6 pounds of good quality muscle that will accentuate your physique. It is also great for people who are not completely convinced about using prohormones. SARMs have a strong anabolic effect, translating their effects into significant changes in your body that you won't get with conventional dietary supplements. Ligandrol is perfect for building muscle mass. Its action is targeted at muscle tissue, where it allows a significant increase in muscle fibers and their development. It also supports insulin sensitivity, which will protect your body against fat accumulation. If you are looking for fast and sustained gains in muscle tissue, then LAG 4033 will be one of the best ways to get your dream physique.
Lawless Labs Ligandrol ingredients:
1 serving, 1 ml:
LGD 4033 Ligandrol - 10 mg - is a substance from the SARM group that only affects selected receptors in our body. This means that Ligandrol will not have negative effects like in the case of classic steroids, but it will only have an anabolic effect on muscles and bone tissue. LAG was invented as a substance to counteract the effects of cachexia, e.g. after extensive skin burns, which confirms that it is a completely safe product that has beneficial effects on the body.
Lawless Labs Ligandrol dosage:
2 times a day 0,5 ml. For best results, keep a 6-8 hour interval between doses.
Share
View full details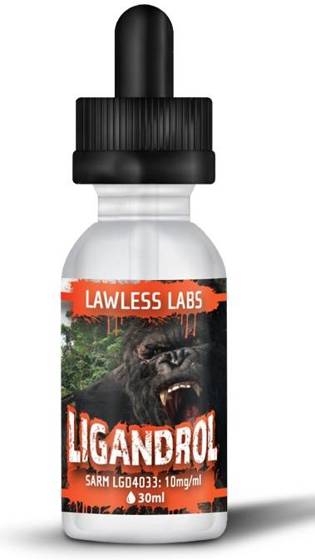 Collapsible content
Shipping

Free delivery on orders over €199.00 EUR*

*Delivery with registered post (5-10 business days) - €8.00 EUR for orders under €199.00 EUR
*Express delivery (3-4 business days) - fixed price €15.00 EUR

We will ship your order after receiving confirmation of payment.

| Country | Delivery price |
| --- | --- |
| Austria, Belgium, Bosnia & Herzegovina, Bulgaria, Croatia, Cyprus, Czechia, Denmark, Estonia, Faroe Islands, Finland, France, Germany, Greece, Hungary, Ireland, Italy, Latvia, Liechtenstein, Luxembourg, Malta, Monaco, Netherlands, Poland, Portugal, Romania, San Marino, Slovakia, Slovenia, Spain, Sweden, United Kingdom | €8.00 EUR |