Revange Nutrition
Regular price
Sale price
€55,00
Unit price
per
Sale
Sold out
Revange Life Quatro Flex PRO a new improved version of the regenerative supplement for joints. This is the real number one in the category of regenerating preparations for the joints. A reliable supplement is especially recommended for people who train intensively and are exposed to injuries, are on a prohormonal cycle, using sarmów or SAA. The preparation reduces pain in the joints during exercise, accelerates regeneration, reduces friction of joint capsules. It's also great for the elderly. The innovative joint supplement contains proven ingredients: vitamins, minerals, type II collagen, glucosamine, cissus, MSM organic sulfur, hyaluronic acid and plant ingredients that protect joint cartilage.
Cissus - a natural preparation supporting the body in many ways. First of all, improving the condition of the tendons and joints, recommended to athletes, people who are active and have problems with connective tissue or as part of the prevention of overload injuries. Cisus helps protect joints, regulates metabolism, works as an antioxidant. Cissus works by reducing the excessive activity of glucocorticoids (by affecting some of their receptors) - hormones produced by the adrenal cortex, which have a strong catabolic effect (they intensify the breakdown of proteins in non-liver tissues).
D-Glucosamine Sulfate - is an essential component of synovial fluid. If the body does not have enough glucosamine, the goo becomes thinner and more watery, and the joints are not lubricated enough and are more susceptible to damage. Providing the right amount of glucosamine in the form of a dietary supplement stimulates the production of synovial fluid. The latest scientific studies have proven effective glucosamine also in pain and arthritis. Glucosamine sulfate is absorbed very well, penetrating from the gastrointestinal tract to the diseased cartilage, which promotes its regeneration. It also does not interact with medications, which is of particular importance for people chronically using certain preparations for health reasons.
Chondroitin Sulfate - plays a key role in the production of cartilage proteoglycans. Has an analgesic effect, increases mobility and stabilizes the width of the joint gap. Chondroitin is one of the main components of articular cartilage. Chondroitin sulfate rebuilds connective cartilage and has a very large impact on the efficiency and endurance of joints.
MSM - an organic sulfur compound that occurs naturally in the human body. Takes part in the formation of collagen fiber structure. MSM thanks to its antioxidant properties protects damaged cartilage against free radicals, while reducing pain. Sulfur in MSM is involved in the synthesis of the basic amino acids l-methionine and l-cysteine.
Gelatin - gelatin prevents osteoporosis and degenerative diseases. Helps maintain elastic tendons and ligaments. It has been proven that consumption reduces pain in people with osteoarthritis of the joints, hips and knees.
Meriva Turmeric Phytosome - high quality turmeric extract. Curcumin, as one of the bioactive components of turmeric, inhibits degenerative processes in the joints through a pronounced anti-inflammatory effect, which is of particular importance for people struggling with rheumatism, i.e. degenerative changes of the musculoskeletal system, as well as sports injuries.
Collagen Type II - hydrolysed collagen is produced from collagen found in the bones, skin and connective tissue of animals. The hydrolysis process involves the distribution of molecular connections between individual collagen bands and peptides using a combination of physical, chemical or biological agents. Stimulates cells for the synthesis of new type II collagen. Chicken collagen ensures the proper functioning of joints, tendons and ligaments.
ApresFlex - Boswellia serrata extract standardized to 20% AKBA. It has anti-inflammatory properties, thanks to which it effectively fights inflammation which is the main cause of pain in joint injuries. It is also known for its general strengthening effect on the body and anti-cancer properties. Has a strong immunomodulatory effect. Internally used Boswellia extract also has anti-arrhythmic, expectorant and supportive effects in chronic colitis or ulcerative colitis.
Hyaluronic Acid - hyaluronic acid due to the fact that it has the properties of joining collagen fibers and binding water molecules, provides us with firm, moisturized and nourished skin and affects the quality of synovial fluid. Interestingly, only one gram of hyaluronic acid can bind about six liters of water. The additional advantages of HA are that it can also alleviate inflammation.
Horsetail Herb - horsetail extract. It has remineralizing, diuretic and protective effects on the urinary tract.
BioPerine - the active ingredient in black pepper, has a thermogenic effect. It can increase the blood supply to digestive tissues, resulting in better absorption of food ingredients. It significantly improves the absorption of many active ingredients of supplements.
Boron - an extremely valuable element, whose deficiencies can lead to degenerative joint diseases and prostate cancer. Boron positively affects the concentration of vitamin D2, magnesium, calcium and copper in the body. Has a beneficial effect on motor coordination, mental performance and long and short-term memory. It also raises testosterone activity, which is why it is so important for people exercising, especially for those who want to build muscle mass even more effectively, without worrying about the condition of those often tired of heavy joint training.
Vitamin C - mediates the synthesis of collagen, insulin and hormones of the adrenal cortex, essential in the absorption of iron, has bactericidal properties, supports the functioning of the immune system, neutralizes free radicals.
Vitamin D3 - together with calcium, has a beneficial effect on the nervous system, prevents rickets, strengthens the heart and relieves inflammation. In addition, vitamin D regulates insulin secretion, which affects the proper level of sugar in the blood. Studies show that it stimulates the bone marrow to produce defense cells and prevents certain cancers.
Manganese - regulates the work of the nervous system, affects fat metabolism, is involved in the transformation of sex hormones, necessary to maintain normal bone condition.
Potassium - is primarily responsible for controlling muscle spasms and maintaining proper blood pressure. It also plays an important role in the water and electrolyte economy. Including potassium supplements in your diet will help prevent heart arrhythmias and skeletal muscle relaxation.
Sodium - sodium plays an important role in maintaining the homeostasis of the body. Used often in states of dehydration. Maintains the electrolyte balance of the body.
Quatro Flex PRO an improved version of the already known preparation, is currently the best offer on the market for people who want to repair or protect their joints and the entire bone and joint system. The product receives a much better opinion from users than the most popular product in this category - Animal Flex
Dosage:
4 capsules a day.
Share
View full details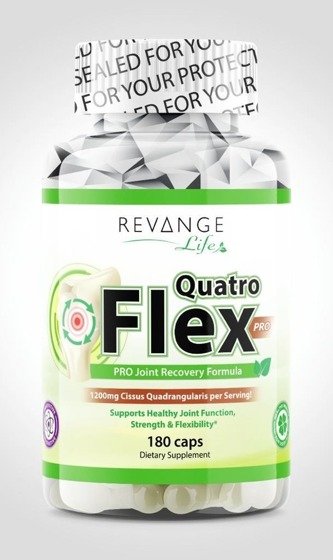 Collapsible content
Shipping

Free delivery on orders over €199.00 EUR*

*Delivery with registered post (5-10 business days) - €8.00 EUR for orders under €199.00 EUR
*Express delivery (3-4 business days) - fixed price €15.00 EUR

We will ship your order after receiving confirmation of payment.

| Country | Delivery price |
| --- | --- |
| Austria, Belgium, Bosnia & Herzegovina, Bulgaria, Croatia, Cyprus, Czechia, Denmark, Estonia, Faroe Islands, Finland, France, Germany, Greece, Hungary, Ireland, Italy, Latvia, Liechtenstein, Luxembourg, Malta, Monaco, Netherlands, Poland, Portugal, Romania, San Marino, Slovakia, Slovenia, Spain, Sweden, United Kingdom | €8.00 EUR |